Taught by Russell Paswater Using the Wernick Method*
Assisted by Cindy Passwater
August 14-16, 2020
Friday 5-9pm; Saturday 10am-6pm;
Sunday 11-3pm
Tuition: $195
$185 through July 14, 2020!
Recommended Lodging: Rodeway Inn – (616) 837-8100
Coopersville, MI at the Coopersville Farm Museum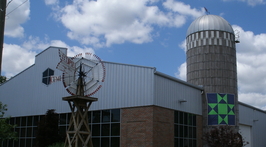 Russell Paswater has played and taught bluegrass banjo and guitar for over 30 years. He is also a songwriter and performs in two bands including the H2O band, second-place winner of the Bluegrass Band contest at Beanblossom. Russell has guided hundreds of jam sessions at bluegrass festivals and always invites beginners because "It's all about FUN!"
Russell's students say:
"Russell is a good teacher. His years of experience and training make him well qualified. He is also passionate about Bluegrass jamming and it is infectious!"
"Russell was an extremely effective instructor who was interested in the success of each student and demonstrated excellent teaching skills. This was more like a friend helping you learn."
"A life-changing experience!"
"Really enjoyed his personality. Good positive role model and very patient with beginner players."
"Russell and Cindy were great. They offered spot-on information and all the encouragement and cheerleading one could hope for."
"Russell and Cindy are such stewards for the love of Bluegrass. If anyone wants to start learning how to play music this is the class for you."
Click any photo to enlarge.
*Wernick Method Classes teach real bluegrass jamming!
All bluegrass instruments welcome
No jamming experience necessary
You will be jamming the first class!
Friendly, encouraging, knowledgeable teaching.
Gentle tempos! Mistakes expected!
Music reading not needed or used
Singing not required, but encouraged and taught.
Easy 2- and 3-chord songs, slow speeds.
Soloing not required! "Faking" solos taught.
Understanding, low-pressure, time-tested teaching
Intermediates welcome, and given added challenges
Hands-on learning in large and small groups
Learn many bluegrass standards
Full ground rules and etiquette of typical jams
How to lead songs and how to follow new songs
How to find melodies, fake solos, sing harmony
Ear skills taught and emphasized, as in real bluegrass
Group and individualized instruction on backup skills
Do you qualify? It's easier than you may think!
If you play guitar, mandolin, banjo, fiddle, bass, or dobro… you can be part of a bluegrass jam.
Only requirements:
You must be able to tune your instrument (electronic tuning devices welcome) and
change smoothly between G, C, D, and A. (Fiddles and basses need to know which notes work with which chords)

For more info or to send payment in the mail, email [email protected].